Philips SpeechExec Pro
Use the power of your voice
with professional digital dictation
SpeechExec Pro Dictation and Transcription Software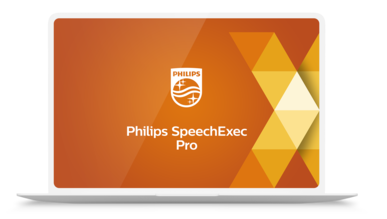 SpeechExec Pro Dictation and Transcription Software links authors and transcriptionists. It facilitates communication, the setup of individual workflow settings and organizational flexibility to help save time and resources. Authors can record directly into the software using a dictation microphone and transcriptionists can playback and conveniently transcribe these files using a foot control.
SpeechExec Pro Dictation Software LFH4400
Optimize your workflow with professional digital dictation
the module for authors including the integrated dictation recorder
SpeechExec software solutions from Philips let you decide for yourself how you want to work. Use our latest technologies to your advantage and work easily and intuitively. Take the pressure off your team by speeding up your document creation processes.
SpeechExec Pro Transcription Software LFH4500
Optimize your workflow with professional digital transcription
the module for transcriptions including the integrated player for transcriptionists
SpeechExec provides you with a transcription management platform that unites workflow automation, transcription features, and speech recognition in one seamless solution. Creating a smooth and future-proof working environment in all documentation-intensive businesses has never been easier.